Lauransot Mod is a French modder craftsman based in Burgundy. He makes tube mod in a traditional way, without numerical control.
Its main quality: perfection. Each mod is unique, has its own switch. Lauransot mod perfectly combines different materials: brass, wood, stainless steel, ivory ...
Here we are in the presence of exceptional high end mods, machined with passion, perfectly built and optimal conductivity.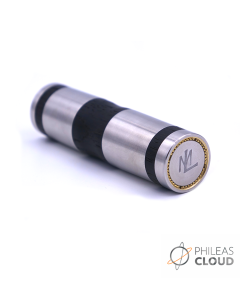 Out of stock
Mod Méca 18650 SS-Morta de Lauransot Mod : un mod mécanique unique conçu et fabriqué en France en acier inoxydable et bois de morta. On apprécie sa qualité de fabrication, l'usage d'un bois d'exception et le caractère unique de chaque pièce produite.
Lors de l'utilisation, le déport de la rondelle hybride doit se situer vers le haut.
   Mod Mécanique                                                Simple accu 18650
  SS/morta