Bridge (Billet Box/Dot Aio)
Bridge or Carto atomizers are atomizers that "cannot" work alone. Their vocation is to integrate into already existing systems such as Billet Boxes (Boro Tank) or tanks which accept cartomizers / bridges (Loki Tank, Tell ...). Out of stock
This new bridge atomiser by Mission XV is highly anticipated by Billet Box users. But not only... This high-end quality "Boro box friendly" atomiser has all the assets to seduce boro box fans (Aspire BOXX, Zero Boro, Ambition Mods 2.0 Boro mod...) . 
   Bridge atomiser                                                Single coil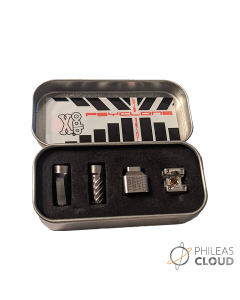 Out of stock
Psyc Bridge - Psyclone Mods
En stock semaine du 20 juillet
Le modeur américain Psyclone Mods s'est fait un nom sur la scène de la vape grâce aux célèbres drippers : le Hadaly et le Citadel. Les nombreux amateurs de ce modeur américain ne seront pas tout à fait en terre étrangère avec ce Boro Bridge doté du plateau de montage - diablement efficace - du Citadel RDA.
   Bridge atomiser                                                Single coil